Waterproof & Breathable Fabric
windproof
Waterproof
moisture permeable
Waterproof and moisture-permeable products are divided into two categories:hydrophilic type and microporous type.

The hydrophilic type utilizes the chemical structure of the membrane. After sweat is absorbed by the fabric, the moisture passes through the waterproof membrane to produce swelling, and then the sweat is discharged by the principle of diffusion.

The microporous type means that there are countless holes in the membrane that are larger than water molecules and smaller than moisture molecules, and the moisture of sweat can be directly discharged from the microporous.
Innovative and highly functional waterproof and moisture-permeable experts, provide you with waterproof and moisture-permeable membranes with different data from high, medium and low.
MP: 20K/WVP:20K
MP: 10K/WVP: 10K
and can rely on For your purpose, choose different types of waterproof and moisture-permeable membranes, such as:TPU, PU, PET, TPEE, PTFE, Bio (TPU, PU, NYLON) membranes, and can be customized for development, two-layer, three-layer Layers and four layers, the products are used in work clothes, mountaineering clothes, ski clothes, and life clothes, which can meet the development needs of customers in various fields.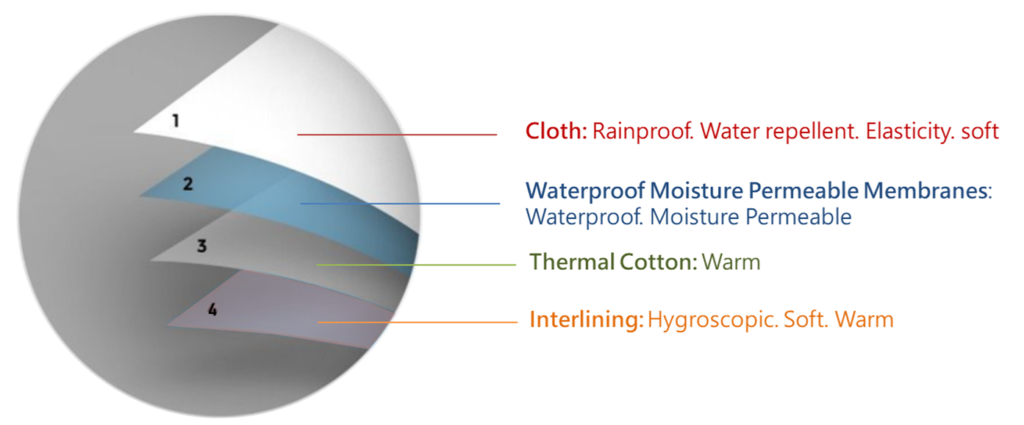 SEND US INQUIRY IF YOU ARE INTERESTED IN PERFORMANCE APPAREL FABRICS AND TEXTILES